Reliable Lawn Painting Services in Melbourne
Are you tired of the yellow grass and dry look of your lawn? We know that maintaining beautiful, green grass is a challenging task, requiring a lot of time and effort. That's why we at Fantastic Gardeners Melbourne created a specialised lawn painting service. It's designed to provide you with a lush, green and thriving looking garden, even in the driest and coldest months of the year.
You'll be amazed at how quick and easy the Fantastic professionals will transform your lawn. Just in a few hours, the grass will look green and fresh again, so you can organise a garden party or enjoy the day outside. And don't worry about the environment. We use only professional, non-toxic lawn paints. They are made from biodegradable ingredients that are harmless to humans, pets and plants. The service is suitable for all types and sizes of gardens and can be applied even when it's extremely hot or cold.
Let the Fantastic Gardeners take care of the yellowish looking grass.
What the Fantastic Lawn Painting Service Consists of
Fantastic Gardeners' specialists are always fully equipped with all the necessary tools and eco-friendly detergents to meet all your expectations. Here is the whole lawn painting process explained:
The specialist will start with mowing the garden - The lawn should be mowed and dry before beginning the painting to ensure the best result of the service.
They will test the grass paint on a hidden spot - This is an essential step, including adjusting and testing the lawn paint, guaranteeing the most natural green colour.
Next, the pros will spray the lawn with the paint - They will apply it with a garden sprayer in a circular pattern and plan on a second coat to get a richer and darker green colour.
After 2 - 4 hours, the paint will be completely dried out - The time for drying out depends on the weather. Just in a couple of hours after spray painting, your garden will be ready for a barbeque party with friends, a property photoshoot or for relaxing and enjoying some fresh air with your family.
Why trust Fantastic Gardeners for Making Your Grass Green?
Enjoy your free time while Fantastic pros are taking care of your lawn:
Fully trained and experienced gardeners with an eye for detail - Fantastic Gardeners' teams are certified and reliable, always fully equipped to meet your needs! They use professional gardening tools and eco-friendly products.
Flexible appointments - We operate 7 days a week, even on national holidays.
Fast and easy booking process - You can book your service using our simple online booking form or just call our top-notch customer service team, available 24/7.
Transparent pricing and free quotes - Get your free quote with no obligation. You get an additional discount by combining lawn painting service with garden maintenance, gutter cleaning, or other lawn care services. Our customer team will be more than happy to design it according to your personal needs.
Advantages of Professional Lawn Painting
All of the Fantastic Gardeners' services in Melbourne are specially created to cover even the most specific job around your garden, such as lawn painting. It's a perfect solution during the dry season or periods of water restrictions, presenting a more even appearance of a natural lush green lawn.
Here are some of the benefits of a professional service:
Instantly restores the natural colour of the lawn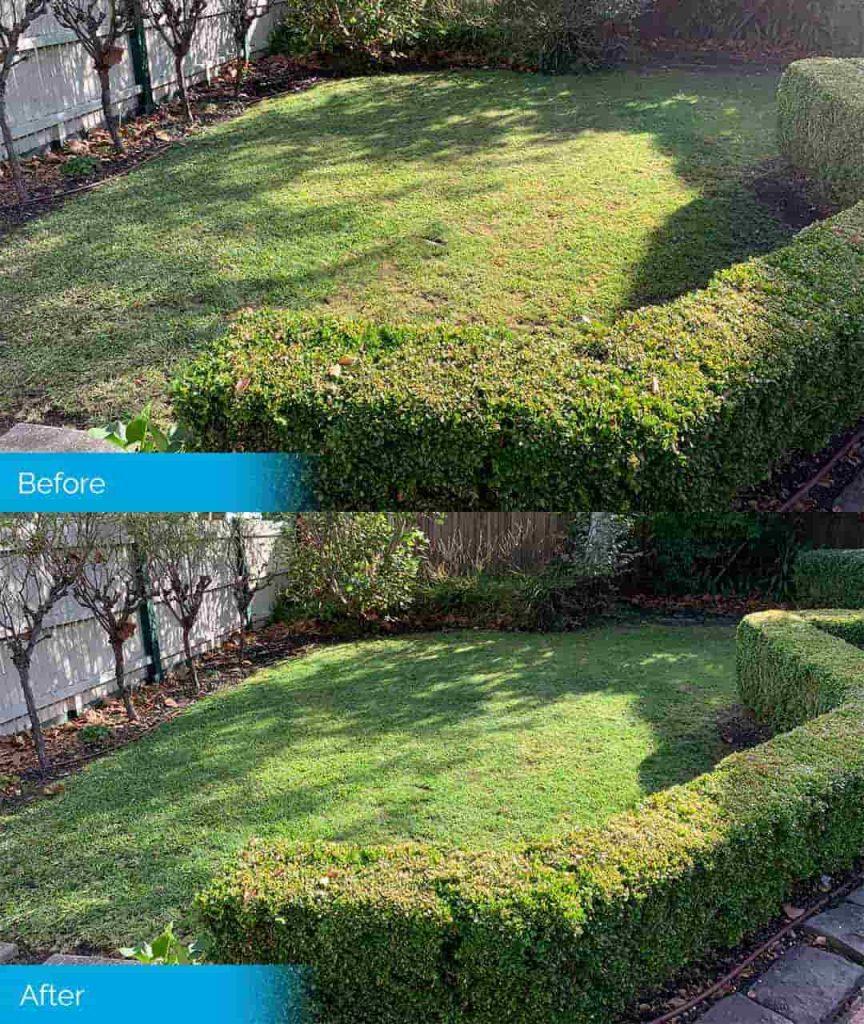 The special turf colourants are made from organic ingredients like pulverized kaolin, soft stone or decayed plants. They guarantee the perfect, natural look of the lawn 2 to 4 hours after the service. To ensure the best result of every service, Fantastic Gardeners test the lawn paint on a hidden spot of the grass. Then, they apply it to the whole lawn.
Easy maintenance
Most people have a busy lifestyle and often don't have the time or energy to maintain their lawn properly. This is where Fantastic Gardeners come in. They'll make your garden look fresh and thriving, requiring no special care and maintenance afterwards. The grass paint conceals brown spots or dead grass and increases the surface temperature. This may aid plant growth during the cold weather to come. It's colourfast when dry and won't contaminate the watershed. It'll naturally fade over time.
Increases the kerb appeal of the property
A beautiful and fresh looking lawn is the first thing a visitor sees of a property. Fantastic Gardeners can improve the appearance of your garden in just a couple of hours. Your lawn will look properly maintained and outstanding. So, if you are planning a photoshoot of your property, this is the perfect service for you.
Reduces the watering and fertilising needs
After the service, lawns look amazing for a long time, reducing the need and time spent on watering and fertilising. That's why the service can be handy for big areas like golf courses, football fields or during water restrictions.
Frequently Asked Questions
Q: Should I do anything to prepare for the service?

A: For best results, the lawn should be mowed and dry before the service. That's why we recommend combining the grass painting with a lawn mowing service.

Q: Do I have to be around during the service?

A: No. Just provide us with access to your garden and come back at the end of the service, just to make sure that everything has been done to your satisfaction.

Q: Is the paint you use toxic?

A: Absolutely not! We use only specialised non-toxic and biodegradable grass paint, which will not harm your grass to grow healthy. They are completely safe for your family and pets.

Q: Do you charge per square meter?

A: Yes, we charge per square meter. You can book a lawn painting service in addition to another gardening service or separately.