Professional Gutter Cleaning in Melbourne
A clogged gutter system may lead to many problems. Therefore, it's often recommended to clean it at least once or twice a year. This is an easy way to prevent flooding the house woodwork, foundations and basement. Regular cleaning helps to avoid moss and lichens build-ups, and also insect infestations and bacterial outbreaks. The Fantastic Gardeners Melbourne professionals are always ready to provide you with expert gutter cleaning services at affordable prices. The cost is determined by the size of your property, the access to the gutters and their general condition.
Whenever you feel that your drainage system does not function as smoothly as it should, call us! We will gently clear out any leaves, branches and debris by using special tools and equipment.
With Our Gutter Cleaning Services in Melbourne You'll Get:
Full week availability - The Fantastic Gardeners' experts are available even on public holidays, with no extra charge!
Fixed price - Get our free quote now!
Fast and easy booking process - Request a gutter cleaning service using our simple online booking form, or by calling 03 8652 1921.
Friendly customer support 24/7 - Our Customer Support line is always available. We will help you out with additional information or if you want to change something with the booking.
Why Use Fantastic Gardeners Melbourne for Your Gutter Cleaning?
Fully qualified, insured and vetted technicians - All of the technicians have years of experience and will provide you with expert service, according to your preferences.
Unlimited in time service - The service is unlimited in time so the Fantastic Gardeners will stay as long as it takes to service your gutters.
Free flushing of downpipes - The downpipe cleaning is included in the service as well, so ensuring the seamless water flow is guaranteed.
Option to combine the service - Combine your gutter cleaning with other gardening services like garden maintenance, lawn mowing, tree services and more to get further discounts.
All the organic waste that is cleared during the service will be packed - After the initial step of the gutter cleaning, all the leaves and other organic waste from the lines will be swiped, bagged, and disposed of in your bin.
The professionals are equipped with all the necessary tools required to do a quality job.
How Do We Do It?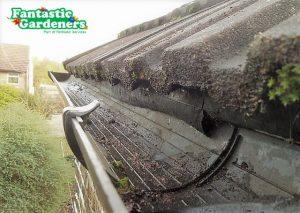 The gutter cleaning experts will arrive promptly at the premises in a special van, equipped with all the required tools.
Stretching up to 10 metres in height, this equipment allows the technicians to inspect every corner of your gutters manually. They will clean the buildup of debris and leaves from the drainage system. After that, all muck will be packed in bags and thrown in your disposal bin.
At the end of the service, they will flush the downpipes. You will be able to approve the result.
Gutter Cleaning is Just One Service In Our Expert Portfolio
In addition to our professional gutter cleaning in Melbourne, you can choose a variety of services. We can take care of everything in your garden from full garden maintenance, hedge trimming, lawn mowing, and tree services, to green waste removal.
All the services can be performed fully contactless! On the day of the appointment, the technician will just arrive and finish the service without having to meet you. In addition, by combining services, you become eligible for various discounts.
Get hold of us right now and become eligible for multiple discounts. We'll be happy to provide you with additional information for booking your gardening service.
Coverage
The Fantastic Gardeners operate in the whole Melbourne region, so don't hesitate to contact us if your property is in an area not listed below. We'll do our best to help you. Here you can see just some of the areas we cover:
FREQUENTLY ASKED QUESTIONS
Q: How do I know when my gutters have to be cleaned?

A: If you have not cleaned yours in a year or more, now is the right moment to do it. We recommend having them cleaned at least once or twice a year to prevent unwanted situations.

Q: Do you clean gutters located on the 3rd floor or above?

A: No, we are not able to perform this service at the moment.

Q: Do I need to be at home while your team is doing the cleaning?

A: Normally, there's no need for you to be on location as we are doing the service. You simply need to make sure our teams have clear access to your roof and the water/electricity supply.

Q: How much does a gutter cleaning cost?

A: The price varies, depending on the size of your property (number of bedrooms) as well as the access and condition of the gutters. To get a free quote, book us online, or ring our sales division, available on 03 8652 1921.