Affordable Mulching Services in Melbourne
There is nothing more satisfying than the look of a neat and tidy garden. And we know that maintaining it is not an easy task and takes a lot of time and effort. That's why Fantastic Gardeners are always on hand to deliver you professional mulching services in Melbourne. Garden mulch is a perfect option for refreshing your garden's look. Moreover, it's an effective way to reduce the time spent on watering and weeding in the future.
With many years of experience in mulching services, you can count on Fantastic's professionals to provide you with the perfect solution for your garden. Book our mulching service in Melbourne, and we'll deal with all the hard work.
Booking with Fantastic Gardeners Melbourne Gives You:
Flexible appointments - For your convenience, we offer booking slots even on weekends and public holidays.
Customisable service - We'll design the service to perfectly fit your needs. Combine a one-off mulching service with other gardening services like garden edging, garden maintenance, lawn mowing, hedge trimming, green waste removal and many more, and you'll get further discounts.
Instant free quotes - Call us now and get your no-obligation free quote.
Top-notch customer service - Our friendly team is always ready to support you!
Fully insured and experienced technicians - All Fantastic Gardeners' technicians are fully insured, reliable and experienced. They are always fully equipped to provide you with the best service.
The Benefits of Our Garden Mulching Service:
Fantastic Gardeners in Melbourne will be happy to select the right mulching mix for your garden. It'll contribute to creating your full of life, thriving garden by improving the soil around your plants and flowers. After the service, you'll be delighted with the new look and feel of your refreshed garden. Here are some of the main benefits of the mulching service: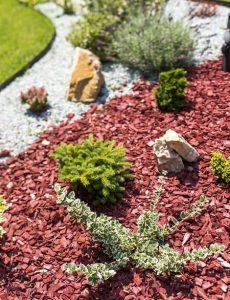 Save time - After mulching, you'll need less time for watering and weeding.
Mulching is eco-friendly and environmentally safe - As it reduces drying up the soil, will save water in the long run.
Prevents weeds from growing - Mulching is doing a great job with avoiding weed growth.
Improves the soil and temperature around the plants - Generally made up of organic matter, the mulching retains valuable nutrients. It also regulates the moisture in the soil. Furthermore, it helps to protect the plant roots from temperature fluctuations. Proper soil temperature is one of the secrets to healthy plant growth.
Better look of your garden - Garden beds will look great. Your garden will be much more attractive, clean and tidy.
FREQUENTLY ASKED QUESTIONS
Q: Do you charge per square meter?

A: Yes, we charge per square meter for mulching service.

Q: How can I get a quote?

A: We usually give final quotes over the phone. However, if you require something specific, we would prefer to organise a survey appointment for you.

Q: How can I pay?

A: We accept cash, MasterCard, and Visa Electron. Don't hesitate to contact us, if you have any questions about payment methods.

Q: How many gardeners do you usually send?

A: We usually send 1 professional gardener.