Melbourne Tree Services with Healthy Aesthetics in Mind
Healthy trees are beautiful trees. The educated technicians of Fantastic Gardeners Melbourne will groom and trim yours into big hardy specimens worthy of being the centrepiece of your garden. Additionally, with our tree services, we'll give you peace of mind, knowing you won't be surprised by dry old branches crashing down unexpectedly. Tree surgery is sometimes as serious as it sounds. Before anything else, however, the tree experts will carry out an inspection to assess the trees in question and advise you on the best course of action with safety and aesthetics in mind.
What More Does Fantastic Gardeners Melbourne Give You
Doing a fantastic job is simply not enough for us. This is why the expertise of the gardeners is supplemented by our company-wide benefits:
The technicians are fully insured, so you don't have to worry about a thing
We offer free quotes over the web-chat or phone, so you can make a better choice
The tree experts use top-notch equipment to ensure quality results
We have slots available for weekends and public holidays, with your convenience in mind
It gets better. We offer a number of deals and discounts when you package services together. Ring our customer advisers to find out more and discuss any details before you book.
What to Expect from Our Professional Tree Services
Tree Surgery
Tree Planting
This includes several tasks:
Pruning and lopping of unhealthy branches which is essential for the healthy growth of woody plants.
Shaping the crown of your trees will not only make the plant look better but it will also reduce the risk of damage by wild branches to your property.
If there are any fallen branches or even whole trees, the tree service professionals will help remove them from your plot.
The professionals can also plant new trees in your yard. They will check the size of the property, type of soil and the fertility to choose the best location. We can give you professional advice on any trees you already have on your property too.
Take Care of Your Garden With One Call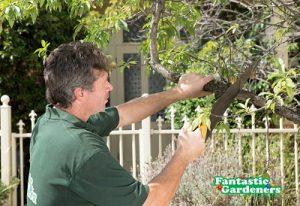 There's always a lot to be done around the garden, but Fantastic Gardeners Melbourne are qualified to do it all for you.
The full extent of garden maintenance also covers:
Coverage
We are providing our services in the whole Melbourne region. Please don't hesitate to contact us if your area is not listed. Here are just some of the areas we cover:
Frequently Asked Questions
Q: What does a tree surgeon do?

A: A tree surgeon can provide many services but essentially he's responsible for the care and maintenance of trees. Think of him as a "tree doctor".

Q: What is the price for tree surgery service?

A: The cost of the service depends on the type of work you want to be done and the size of the tree. Send us some photos, so we can give you a proper quote.

Q: Do you work on weekends?

A: Yes, and we don't charge extra, but make sure your neighbours won't mind the machinery noise.

Q: How can I schedule an appointment?

A: Quick and easy. Use our online booking form, online chat, or go old-school and simply give us a call.