Professional Lawn Mowing in Melbourne
The one thing that can immediately and absolutely destroy your garden's image is a rampant overgrown lawn. Fortunately, Fantastic Gardeners provide proven and affordable lawn mowing services in Melbourne to help busy people like you take proper care of their lawns. With years of providing lawn care services, you can always count on our local teams to mow the turf and keep it green, beautiful and healthy.
Why Using Our Lawn Cutting Services
Mowing a lawn may seem like a simple task, but you can irreversibly damage your grass if done improperly. Hiring a lawn maintenance specialist with Fantastic Gardeners will ensure the best treatment for your grass. With our local lawn mowing services in Melbourne, you can rely on the following perks: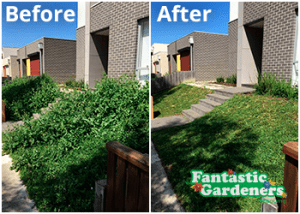 Free time: You won't have to spend your weekend mowing the grass. A lawn service can potentially save two hours of work each week.
Regular mowing: Keeping a tight lawn mowing schedule will discourage weed growth and make your turf hardier.
Proper grass cutting: The lawn specialist will cut your grass to optimal length. This avoids weakening the turf and makes the grass less prone to disease.
Proper tools: Sharp and properly maintained lawn mowing equipment will reduce the mechanical stress on the turf significantly, thus also lowering the negative impact of trimming.
Get in touch with us today to help you maintain the ideal lawn. For best results, you can request additionally:
Weeding is an essential part of the whole gardening process. It could be quite complicated when there are deep-rooted weeds. This is no problem for the Fantastic Gardeners! We have the tools, and we know how to tackle any unwanted growth on your lawn.
Lawn mowing is simply not enough.
Edging
is the thing that can make your lawn look finely groomed along the borders. It will also prevent grasses from growing outside their boundaries.
Lawn Mowing is Just One Rose In Our Service Bouquet
Fantastic Gardeners provide a range of services for complete garden care. On top of our lawn mowing in Melbourne, you can also take advantage of our mulching service, tree services or green waste removal, and thus becoming eligible for a price reduction. Just contact us to learn more about our services and discounts.
Coverage
The Fantastic Gardeners operate in the whole Melbourne region. Don't hesitate to contact us if your property is in an area not listed below. We'll do our best to help you. Here you can see just some of the areas we cover:
Frequently Asked Questions
Q: What does lawn mowing include?

A: Our lawn mowing service is fully customisable according to your needs. You can include weeding, edging and line trimming. Fertilising comes at an additional cost.

Q: How much do you charge for lawn mowing?

A: The minimum charge for lawn mowing service is $119 for Fantastic Club members. You can schedule fortnightly, monthly or bimonthly sessions, as regular service comes at a lower price.

Q: Can you fertilize my lawn?

A: Of course. However, fertilising comes at an additional charge.

Q: Do you need electricity to provide the service?

A: Not at all. The gardeners operate with professional high-end petrol mowers that don't require electricity.