Lawn Mowing Melbourne for a Neatly Groomed Garden
Тhe one thing that can immediately and absolutely destroy your garden's image is a rampant overgrown lawn. This is where Fantastic Gardeners Melbourne come in to give your turf areas the professional lawn mowing they deserve. The trained specialists will perform lawn mowing magic with unsurpassed level of expertise. You can always count on us to help with your turf areas to keep them clean, healthy, and neat. From grass cutting to irrigation – We do it all!.
Expert Lawn Mowing and Turf care in Melbourne
While lawn mowing may seem simple enough at first glance there are a lot of things that can go wrong if you don't know how to properly care for one, inaccurate watering and/or fertilising being the most common ones. The list does not stop here when it comes to the actual mowing. When you schedule with us, you won't have to worry about: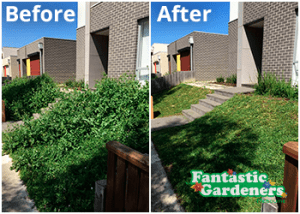 Skipping a weekly mowing. Golf courses are so lush because the get regularly grass cutting. Keeping a tight lawn mowing schedule will discourage weed growth and make your turf more hardy.
"Scalping" your lawn. If you let your turf grow too long, you are setting it up for a number of problems. Mowing the grass too low after being unchecked for a while will distress it and make it prone to disease. We know how to tackle this problem safely.
Cutting the grass with dull blades. Sharp and properly maintained lawn mowing equipment will reduce the mechanical stress on the turf significantly thus also lowering the negative impact of trimming.
Lawn Mowing is Just One Rose In Our Service Bouquet
Booking lawn mowing services with us, not only guarantees a complete yard care package but also a certain level of quality that we pride ourselves on. Delivering that is the highest priority of the gardening teams & arbourists. Moreover, saving yourself a lot of time and running around by getting a number of other garden maintenance jobs packaged at once with us makes you eligible for a price reduction. Contact us by phone or chat right now and check out the personalised discounts we can give you.
Weeding is an essential part of the whole gardening process. It could be quite complicated when there are deep-rooted weeds. This is no problem for the Fantastic Gardeners! We have the tools and know how to tackle any unwanted growth on your lawn.
Proper irrigation doesn't end with supplying water. For a verdant lawn and healthy plants designing an efficient delivery system that can last is a must. The irrigation system will be tailored to your property and turf to maximise efficiency and minimise water wasting.