Book the best extensive Garden Maintenance in Melbourne
Keeping your garden constantly flawless is backbreaking and time-consuming work. Fantastic Gardeners Melbourne is here to take that burden off your back and apply the specialist yard care that your garden deserves. Get back the hours of hunching over garden beds, pushing the lawnmower, or circling hedges with the garden shears and use them for yourself! Get ahold of the gardening professionals and let your yard thrive with our garden maintenance.
The Ultimate Yard Care by Fantastic Gardeners Melbourne
The garden maintenance services are designed to completely cover your yard's needs. Our regulars know we deliver top results, and to guarantee new clients' satisfaction we: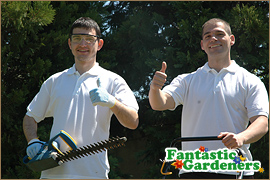 Give comprehensive customer care to ensure your standards are met

Offer fully customisable service and work on weekends to fit best your needs

Use specialist grade equipment for maximum effectiveness
Give expert advice about garden maintenance on the spot
The Garden Maintenance Package that has it all!
You can count on us for the full range of garden maintenance services like hedge trimming, weeding, planting, mulching, leaf clearing, fertilising, and whatever else your garden may need. 
If you don't see the yard care service you need, just give us a call and ask the operators! Our services are designed with the client in mind so you can fully tailor it to your liking and needs. Besides, we'll give you a free quote on the price beforehand.
Fertilising
Hedge Trimming
Garden Mulching
Australian soil is sometimes hard to work with. Which is why fertilizing twice a year is suggested – in spring and autumn. Keeping the soil well stocked with nutrients is essential for a lush garden. We work with both organic and chemical fertilizers so we can suit you and your garden best.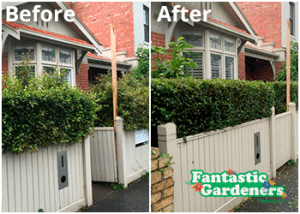 Hedge trimming is a deceptively simple service that can potentially dictate the feel of your entire property. When properly carried out it can make your entire home look tidier and luxurious.
Mulch is organic or inorganic material that is applied to the base of your plants to contain weed growth and improve moisture retention. Organic varieties of mulch will even improve the fertility of the soil as they break down with time. The types of mulch are many and we'll gladly help you choose the best for your garden.
Everything Your Garden Needs
Additionally,
lawn mowing
and
green waste removal
are both included in our package of services. We will apply our lawn care expertise to keep your turf areas sprightly and neat, and when the job is done we will take care of all the green waste. Unless you want to compost it, of course. Furthermore, you can take advantage of our tree services, too. 
Frequently Asked Questions
Q: What does garden maintenance include?

A: Garden maintenance may or may not include the following: weeding, hedge and bush trimming, pruning, planting, transplanting, mulching, leaf clearing, fertilising and more. Our service is fully customisable according to your needs.

Q: How much does garden maintenance cost?

A: Usually, garden maintenance cost varies, depending on the tasks included in it, your location and the size of the job. Our price starts from $42.50/hour for regular clients, members of the Fantastic Club.

Q: Can you maintain my garden after the initial tidy up?

A: Of course. You can even benefit from our preferential prices for regular garden maintenance. You can schedule the service on a fortnightly or monthly basis and ask for the same gardener if you're satisfied with the job.

Q: What about the green waste?

A: If you have a green bin, the gardener will be happy to dispose of the green waste there. If not, we can organise green waste removal at an extra cost.
Check What Our Clients Say