Australian Native Plants
If you're a fan of Australian native plants, you've come to the right place! There are more than 24, 000 species of native plants in Australia. This makes the country's fauna one of its most valuable assets. This great diversity makes them appropriate for every landscape. That is why they're growing more and more popularity in recent years. Here are some of the most common ones:
Most popular australian native plants
Red Flowering Gum
Grevillea
Blue hibiscus
Kangaroo paw
Banksia
Bottlebrush
A native plant is a plant "born and raised" in Australia. Indigenous plants, included in the Australian Plant Census. They can also be indigenous to any state unless they are declared as naturalised. Both Australian native plants to a particular state and to the whole country may include hybrids or cultivar. The parents of which, however, must be Australian Native plants.
Australian native plants are much more durable and susceptible to the Australian climate. They can be easily incorporated in any style of garden. Native cut flowers tend to last 2 weeks, with just a little care and fresh water every day.
There are more than 24, 000 Australian native plants. Native climbers, native shrubs, native trees and drought-tolerant plants make up for a huge part of the Australian flora.
Generally speaking, there are a few simple rules for Australian natives plant care:
Choose the right place to plant them, according to the specific requirements of each plant.
Pay a lot of attention to your natives in the first 12 months. They might require a lot of water in dry weather.
Mulch.

Thus, you will decrease water evaporation and encourage worms and beetles in the soil.

Don't use pesticides. Natives attract "good insects", which will help control the problem with pests.
If needed, count on local gardeners to take care of your native plants.
Australia's National Flower is (of Course) a Native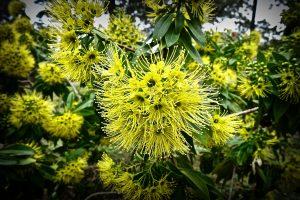 Australia's national flower is Acacia pycnantha. It is more well-known as Golden Wattle. It is in fact, native to southeastern Australia. It is a tree of the family Fabaceae and it grows up to 8m tall. It blooms in late winter or early spring with very fragrant golden flowers.