Professional Gardening Services in Dandenong
Book Gardening Services in Dandenong Quick and Easy!
Fantastic Gardeners specialize in providing expert garden maintenance services in Dandenong. We work with technicians that are insured and knowledgeable. With our years of experience, we aim to provide complete customer satisfaction and treat each garden with special care.
Maintaining the garden regularly is one of those tasks that looks really easy in theory, but in fact, you can permanently damage your plants if you don't know what you're doing. Watering too often or too rarely may damage the plants' roots. Nourishing the soil with the wrong type of fertilizer may result in changing its pH and killing your plants. The outdoor garden tasks require expertise, know-how and attention to details - qualities that all of our gardeners posses.
The gardening services in Dandenong are hourly based. That means that the technicians can help you with all yard-related task you've been putting off within the booked hours. Book now by filling the online form or by calling us on 03 8652 1921. Our specialists will help by completely transforming the outdoor area of your home.
The professional gardening services in Dandenong come with many benefits
Knowledgeable and trained garden technicians who are equipped with all tools and materials needed to maintain any type of garden;
Garden maintenance service suitable for all types of yards no matter their condition or size available monthly or fortnightly;
The service is completely contactless - you don't need to meet the technicians. All we need is access to your green space;
You can book a service online from the comfort of your couch with a few simple clicks.
A full range of garden services available in Dandenong
Whether you need a one-off help in your garden or regular maintenance, you can always count on Fantastic Gardeners! Our expertise covers every aspect of backyard maintenance. Take a look at the numerous services we offer:
Hedge trimming, edging and grass cutting;
Pruning of small trees, ivy and bushes;
Plant fertilizing, flower planting and weeding;
Soil mulching and fertilizing;
Leaf clearance, branches cleaning;
Gutter cleaning and pressure washing.
If you have a specific service in mind, give us a call on 03 8652 1921. The gardening services we provide can be completely customizable based on your needs and priorities.
What does our garden maintenance service include?
The garden technicians will arrive at your property bringing all tools and materials needed for the job including shovels, digging tools, edgers, spade, trowel and more. The gardeners will also wear protective gear and overshoes. Do not hesitate to discuss every aspect of the gardening tasks before the service.
Due to the coronavirus outbreak, all technicians wear masks and gloves. The service can be performed contactless - that means that you don't need to meet with the gardeners. You can book a service online and provide instructions over the phone to avoid contact. However, you need to provide access to your garden prior to the service.
The regular garden maintenance may include a list of routine tasks. However, you can customize the list for each visit. You can also request a one-time gardening task as long as it can be done throughout the booked time.
The garden technicians have the knowledge and expertise to execute any type of gardening projects. They are always ready to share their professional advice on how to keep your green space fresh and healthy.
Expert Lawn Mowing Services in Dandenong
Are you looking for a professional lawn mowing service for your residential or commercial property in Dandenong? An overgrown lawn can ruin the curb appeal of your house or office building.
You may be tempted to take care of your lawn on your own, but there are certain insights of maintaining a beautiful turf that only experts know about. To avoid unevenly cut grass, shallow root growth or diseases on your grass you better opt for professional help.
The technicians can perform a range of lawn maintenance solutions including grass cutting, weeding, lawn fertilization, restoring soil condition, edge cutting and more.
Professional Green Waste Removal in Dandenong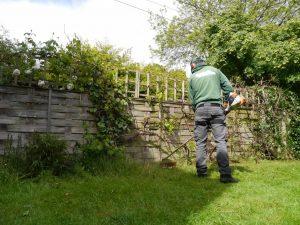 Is the green waste piling up in your yard and ruining the pretty view? Regular garden maintenance usually results in a bigger and bigger pile of debris. Fantastic Gardeners offers you green waste removal service specially created to make your outdoor area fresh and neat. We can tackle all types of garden debris including weeds, grass cuttings, leaves, twigs and branches and more.
The service we provide can be customized to meet your specific needs. The technician will arrive on your property prepared to collect the garden waste, no matter the size of the pile, to pack, load and transport the rubbish to your local waste station.
Frequently Asked Questions
Q: What if it's raining on the day of the service?

A: The professionals check the weather forecast regularly to make sure that they're prepared. We can even work when it's raining if the job results won't get compromised because of the water. We can also reschedule the appointment on a convenient date and time for you.

Q: Do you require access to electricity to perform the service?

A: No, we don't. The gardeners use industrial petrol-powered instruments so they won't need access to electricity. Have in mind, that if you requested pressure washing together with the garden maintenance, we'll need electricity and water for the machines.

Q: Do I need to be on the property during the service?

A: No, you don't have to be on the property. However, you need to provide the gardeners with access to your green space so they can finish the job.

Q: Do you work on weekends?

A: We provide gardening services seven days a week, including on weekends and bank holidays.