Top-notch Gardening Services in Hampton
Get Professional Garden Maintenance Service in Hampton
Gardening is a great hobby for some people and a tedious task for others. No matter if you love it or hate it, gardening is not as easy as it seems. Big or small, to take care of your garden and keep your plants happy and healthy, you need knowledge and experience.
You can damage your lawn or garden easily if you water it too often or not frequently enough. Too much water can change the pH level of the soil and damage the roots. Gardening tasks require extraordinary attention to details and experience.
Luckily, the experts with Fantastic Gardeners in Hampton have the passion, knowledge and expertise to keep your garden beautiful and healthy!
The gardening services in Hampton come with a number of benefits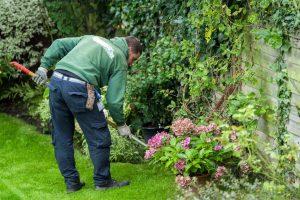 Fully insured, trained and experienced gardeners that come fully equipped with professional tools to completely transform the look of your garden;
The service is hourly-based, that means that the technician will stay on the property until the booked time is over. You can take advantage of their presence and ask them to do additional tasks in your garden;
Fully contactless service suitable for all type of lawn and gardens no matter the size or their condition;
Book a service online within a few minutes by filling the online form or calling us on 03 8652 1921.
The professional gardeners will take full care of your yard
Whether you need a one-off backyard clean up or regular garden maintenance, Fantastic Gardeners in Hampton can help with the dreading tasks. Take advantage of the following services:
Edging and hedge trimming, grass cutting;
Ivy pruning, bush and tree pruning;
Flower planting and replanting, plant fertilization;
Soil mulching;
Weeding and garden clean up - leaves and branches cleaning;
Gutter cleaning;
Patio and gazebo pressure washing.
If the service you're looking for is not listed above, give us a call on 03 8652 1921. The gardening maintenance services we provide are completely customizable to ensure you get a service, based entirely on your needs.
What does our garden maintenance service include?
A team of professional gardeners will arrive on time on your property fully equipped and prepared to perform the service. They'll bring all tools and equipment needed for the job including shovels, spade, rake, trowel, digging tools, edgers, garden cutting tools and more. The technician will wear overshoes and coverings.
Important note: Due to the coronavirus situation all technicians can perform the booked service completely contactless. They'll also wear masks and gloves. You can simply book a service online, provide a list with priorities, give instructions and sit and relax in your home while we bring your garden back in shape.
The gardeners will start with the tasks you listed as priorities. If the technicians finish earlier and there is still booked time left, you can ask them to help with other gardening tasks such as green waste removal, pruning the backyard and more.
Take advantage of the gardeners' presence and ask for tips and advice on how to maintain your yard, take care of a certain plant and more.
Professional Lawn Mowing Services in Hampton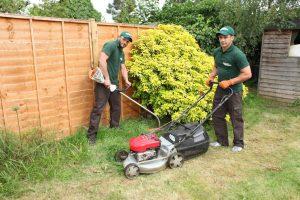 Are you tired of seeing overgrown grass in your yard? The neglected lawn can easily ruin the look of your property. With our expert lawn care services, you can enjoy a well-maintained green space with zero effort. The professional service is specially designed to save you time and money. No matter if the lawn is well-maintained or overgrown, we will make sure to leave it in perfect shape after the service.
Mowing the lawn looks like an easy task, but in reality, you must know how to perform it. Unseemly mowing may result in damaged grass, empty patches, or grass dying afterwards from diseases.
The professional gardeners in Hampton are experienced and have the knowledge to provide a complete lawn care service including grass cutting, weed removing, lawn fertilization and more.
Expert Green Waste Removal in Hampton
Regular garden maintenance can create a huge amount of green waste over time. Fantastic Gardeners in Hampton are here to help with this dreadful task. We can collect, load and transport all organic waste safely to your local waste station. This waste usually includes weeds, grass clippings, leaves, branches, twigs, tree trunks and more.
The garden rubbish technicians will come on your property equipped with all tools and materials needed for the job. You can customize the service based on your needs. The gardeners can also bring bags if you request it.
Frequently Asked Questions
Q: Do I need to be present during the service?

A: You don't need to be on the property, but you do need to provide access to your garden for the technicians. You also need to list the tasks you need to be done and share them with the professionals. You can give us the information prior to the service and we'll instruct the gardeners.

Q: Will you take away all the green rubbish accumulated during the service?

A: If you have a green bin on your property, we will use it to dispose of the waste there. We can also organise a removal service at an additional cost.

Q: Do you need access to electricity to provide the service?

A: The gardeners will come equipped with professional petrol-powered instruments, so they won't need access to electricity to perform the service. However, if you've arranged a pressure cleaning, we'll need access to electricity and water.

Q: Do you work on bank holidays and weekends?

A: We provide garden maintenance services seven days a week, including on bank holidays and during the weekends.