Professional Gardening Services in Oakleigh
Get professional garden maintenance service in Oakleigh
The expert gardening maintenance service is specially designed to save you time and effort when it comes to keeping your garden neat and beautiful. Even the smallest garden requires regular maintenance to keep the plants and trees healthy. With the professional help of the Fantastic technicians in Oakleigh, you can free your time to do something else.
Bring your garden in Oakleigh in shape without lifting a finger
Skilled technicians that'll guide you through the entire service and follow your requirements;
Contactless service available for all types of gardens and lawns no matter the size;
The gardeners are detail-oriented and complete every service with precision;
Save time and book your service online. Just fill your details and specify your need to receive a customized gardening service;
You can book a service on a regular basis - monthly or fortnightly to save money and keep your garden presentable. You can also book a one-off service if you only need specific tasks done.
The specialists offer full care for your garden:
Hedge trimming and edging, ivy pruning;
Bush and tree pruning;
Flowers planting, replanting and fertilization;
Soil mulching;
Leaves and branches cleaning;
Gutter cleaning;
Patio pressure washing.
If you don't see the garden service you need listed above, just give us a call on 03 8652 1921. The yard care solutions we provide is created with clients in mind, so you can fully customise the service based on your needs.
Our professional garden service in Oakleigh in details
The garden technician will arrive at your property fully equipped with tools and machinery to complete the job. They'll also wear overshoes and coverings to keep your property clean in case they can only enter the garden through your home.
Due to the coronavirus situation, all garden technicians will come to your property wearing masks, gloves and protective gear. We understand that gardening is an essential service, so the service we provide can be fully contactless. You can simply book a service online or on the phone, list the things you need to be done and provide instruction for the gardeners.
The technicians will follow your list of priorities strictly within the booked hours. If they finish early you can ask them to help with additional tasks within the booked time. If you've booked a regular yard care service, you can add and remove tasks from the list on every appointment.
You can take advantage of the gardeners' expertise and seek advice on how to maintain the good shape of your garden.
Expert Lawn Mowing Services in Oakleigh
An overgrown lawn can immediately worsen the curb appeal of your property. Lawns can overgrow so quickly and mowing is a tedious task for a lot of people. If you're one of those people or your busy schedule doesn't let you take proper care of your lawn, you can trust the Fantastic Gardeners to perform quality service. With years of expertise, you can always count on our local technicians to keep your lawn green, fresh and beautiful.
Lawn mowing is one of these tasks that look simple and easy, but in reality, you must be careful not to damage the grass when mowed. The type of grass and the season must be taken into account. Improper mowing may result in grass cut too short in patches, dying off or diseases spreading in the yard.
The professional lawn mowers are experienced and have the know-how to transform the look of your backyard.
The local gardeners in Oakleigh are fully equipped with all tools and instruments to provide full lawn care solution - lawn cutting, line trimming, lawn fertilization, weed removal.
Green Waste Removal in Oakleigh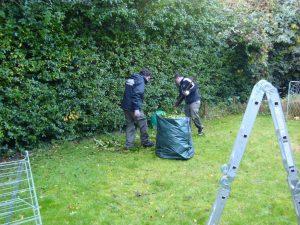 If you have green waste piling up in your backyard, don't feel ashamed. Fantastic Gardeners is here to help, no matter if you don't have the time or the transportation to deal with it. and will load, transport and take away all organic debris safely.
No matter the size of the job, the green waste technicians will come on your property in a convenient for you time to take care of the green debris for you. The service can be customized based on your needs. Green waste includes any organic waste you might have in the garden such as leaves, branches, twigs, mulch, tree trunks, and grass clippings.
We can help to clear the yard of any waste before disposing of it or we can take the already collected garden waste, bag it, load it and transport it to a local waste station. The technician can bring bags and bins if needed. The professional rubbish removal service will leave the yard spotless!
Frequently Asked Questions
Q: What if it's raining on the day of my appointment?

A: We take time to check the weather forecast on a daily basis, to make sure we don't schedule appointments on rainy days. However, if the weather surprises us and it's not possible to perform the service, we can reschedule it in a convenient time for you.

Q: Do you need access to electricity to provide the service?

A: We use professional petrol-powered equipment so we don't need access to electricity. However, in case you've booked pressure cleaning for your patio, we'll need access to water and electricity.

Q: How can I book an appointment?

A: You can schedule an appointment in a matter of minutes. You can fill your information in the online form and pick a date and time for the service. Or you can call us on 03 8652 1921. For your convenience, we created the GOFantastc mobile App, which gives you the ability to book all types of domestic services with a few simple clicks.

Q: Do you work on weekends or bank holidays?

A: We provide gardening services seven days a week, including on weekends and bank holidays.