Expert Gardening Services in Wantirna
Book gardening services in Wantirna
Fantastic Gardeners in Wantirna has been offering reliable gardening solutions since 2011. We partner up with experienced local gardening professionals, who know how to make your garden look fabulous.
Even the smallest garden needs regular maintenance to keep the flora healthy. So whenever you need some extra help with your tasks, you can trust the technicians with Fantastic Gardeners to keep your garden beautiful. The garden professionals have the tools, knowledge and passion to work on any garden no matter the size or condition.
Book a garden maintenance service now by filling the online form or by calling us on 03 8652 1921.
With the gardening services in Wantirna you'll get:
We work with trained, insured and knowledgeable gardeners;
Modern gardening equipment ensures high-quality end results;
The gardening services are suitable for all types of gardens monthly and fortnightly;
You can request regular gardening service or combine services to get a discounted price;
Easy booking process - request a service in a matter of minutes.
A full range of garden maintenance services in Wantirna
Whether you need a one-time service or regular maintenance, whether your garden is big or small, you can take advantage of the following services:
Hedge edging and trimming, grass and plant cutting;
Bush and small tree pruning, ivy pruning;
Soil mulching and fertilizing;
Flower planting and replanting;
Garden clean up - weeding, branches and leaves cleaning;
Patio, gazebo, driveway pressure washing;
Gutter cleaning.
Can't find the service you're looking for? Give us a call on 03 8652 1921 and we'll customize the service based entirely on your specific needs.
Here is how we perform the gardening service in Wantirna
The garden technicians will arrive at your property wearing protective gear, masks, gloves and bringing all tools and materials necessary for the job. They will inspect your property and give you a time estimate for the service.
Due to the coronavirus outbreak, we can perform the service completely contactless - you just need to provide us with access to your front or backyard and give instructions to the technicians
Since the gardening service is hourly-based, you can list your priorities starting with the most important ones and the gardeners will start working on them first. If there is still booked time left you can ask them to help you with another gardening task such as weed pruning, green waste removal and more.
Take advantage of the expertise of the gardeners. They are always ready to share their opinion on how to maintain your green yard healthy and beautiful.
Expert Lawn Mowing Services in Wantirna
The overgrown grass in your lawn can ruin the look of your yard. Fantastic Gardeners are dedicated to delivering quality lawn mowing service in Wantirna.
Lawn maintenance is a task that requires knowledge and expertise. Otherwise, you risk damaging your garden. Grass cut too short may result in empty patches, the spread of diseases or grass dying from shallow roots.
Mowing the lawn looks like an easy task, but in reality, you must know how to perform it. Otherwise, you're risking damaging it. Unseemly mowing may result in damaged grass, empty patches, or grass dying afterwards from diseases.
Green Waste Removal in Wantirna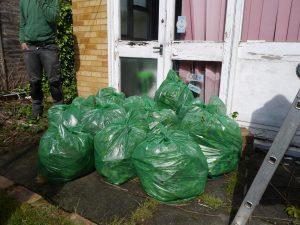 If you have a garden, that often means that green waste will accumulate regularly in your yard. Especially after maintenance. Fret not, as the Wantirna-based green waste removal service is flexible to fit any schedule. Fantastic Gardeners is here to help with the dreadful job no matter how big or small the task is.
The gree debris removalists will arrive equipped on your property. Upon request, they can also bring bins and trash bags. You can request from us to clear your yard from the debris, or just to bag and transport it to the local waste station.
No matter the job size, we can take care of all types of garden rubbish - weeds, leaves, branches, tree trunks and more.
Frequently Asked Questions
Q: Do I need to be on the property during the service?

A: That's not necessary. We provide fully contactless service during the Coronavirus outbreak. You need to provide the gardeners with access to the yard and list the things you need to be done during the service.

Q: Are the technicians fully trained and qualified?

A: Fantastic Gardeners partners with fully trained and professionals with attention to details in order to provide high-quality gardening services.

Q: Do you work on bank holidays and weekends?

A: We provide gardening services seven days a week. We even work on bank holidays.

Q: What if it's raining on the day I scheduled a service?

A: The specialists monitor the weather forecast regularly to make sure that they're prepared. We can even perform a job while it's raining if the results won't get compromised because of the rain. If that's not the case, we can reschedule the appointment at a convenient time for you.